Preventive dentistry in San Jose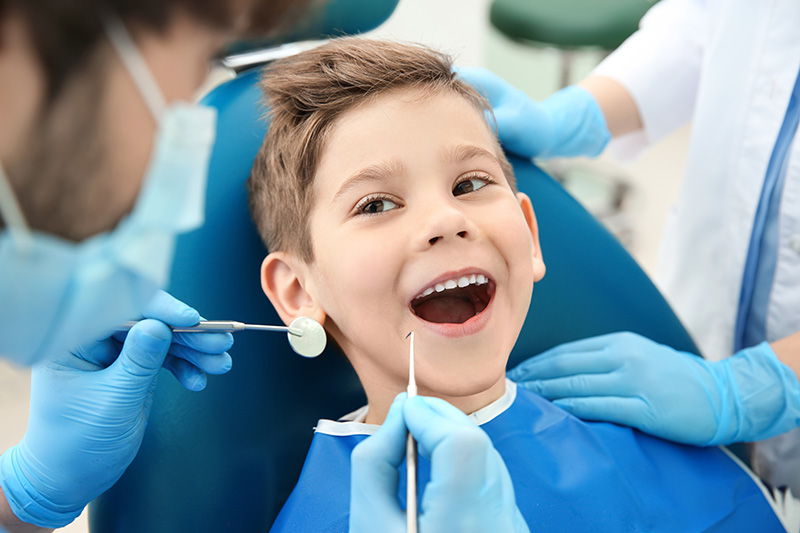 Prevention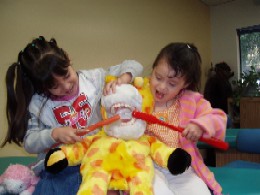 Q&A
Q: Why is preventive dentistry important for your child?
A: Preventive dentistry means a healthy smile for your child. Children with healthy mouths chew more easily and gain more nutrients from the foods they eat. They learn to speak more quickly and clearly. They have a better chance of good general health, since disease in the mouth can endanger the rest of the body. A healthy mouth is more attractive, giving children confidence in their appearance. Finally, preventive dentistry means less extensive and less expensive treatment for your child.
Q. When should I start cleaning my baby's teeth?
A: The sooner the better! Starting at birth, clean your child's gums with a soft infant gum swab and water. Upgrade to a small toothbrush when the first tooth appears. Remember that most small children do not have the dexterity to brush their teeth effectively until they are about five years old. Be cautious with the toothpaste and only use a tiny smear.
Q. How can I prevent tooth decay from improper use of baby bottle, sippy cup or nursing?
A: Encourage your child to drink from a cup as they approach their first birthday. Children should not fall asleep with a bottle. At-will nighttime breast-feeding should be avoided after the first primary (baby) teeth begin to erupt. Avoid having the child drink juice from the bottle, and encourage drinking juice from a cup at mealtime. Use only water in a cup between meals. Stop bottle-feeding around 12 to 14 months old!
Q: How can I help my child enjoy good dental health?
A: The following steps will help your child be part of the cavity-free generation:
Beware of frequent snacking
Brush effectively twice a day with a fluoride toothpaste
Floss once a day
Have sealants applied when appropriate
Seek regular dental check-ups (every six months)
Assure proper fluoride through drinking water, fluoride products or fluoride supplements
Here are tips for your child's diet and dental health.
Ask your pediatric dentist to help you assess your child's diet.
Shop smart! Do not routinely stock your pantry with sugary or starchy snacks.
Only buy "junk foods" on occasion.
Limit the number of snack times; choose nutritious snacks.
Provide a balanced diet, and save foods with sugar or starch for dessert.
Don't put your young child to bed with a bottle of milk, formula, or juice.
Reprinted with permission of the American Academy of Pediatric Dentistry
211 E. Chicago Avenue, Suite 700, Chicago, IL 60611-2663
Phone: 312-337-2169 Fax: 321-337-6329
email: aapdinfo@aapc.org website: www.aapd.org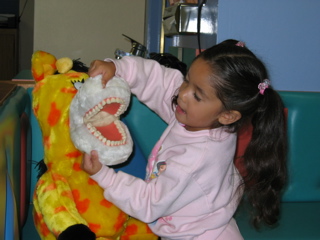 Oral Health and Learning
"What amounts to a silent epidemic of dental and oral diseases is affecting some population groups.
This burden of disease restricts activities in schools, work, and home, and often significantly
diminishes the quality of life." ... Surgeon General David Satcher, (retired) Ph.D., M.D.
As specialists in pediatric dentistry, poor oral health has been related to decreased school performance, poor social relationships, and less success later in life. Children experiencing pain are distracted and unable to concentrate on schoolwork.
Children with chronic dental pain are unable to focus, are easily distracted, and may have problems completing their schoolwork. They may also experience deterioration of school performance, which negatively impacts their self-esteem.
Children who take a test while they have a toothache are unlikely to score as well as children who are undistracted by pain.
Early tooth loss caused by dental decay can result in a failure to thrive, impaired speech development, and decreased inability to learn and grow.
Acute dental problems cause children to miss school.
Nutrition and Learning
People who are missing teeth have to limit their food choices because of chewing problems, which may result in nutritionally inadequate diets.
The daily nourishment that children receive affects their readiness for school.
Inadequate nutrition during childhood can have detrimental effects on children's cognitive development and on productivity in adulthood. Our Pediatric Dentists warn that nutritional deficiencies also negatively affect children's school performance, their ability to concentrate and perform complex tasks, and their behavior.
The above material is cited from Oral Health and Learning fact sheet. It is published by National Center for Education in Maternal and Child Health (NCEMCH) and Georgetown University. Written permission must be received for duplication of any cited materials from Oral Health and Learning fact sheet from NCEMCH.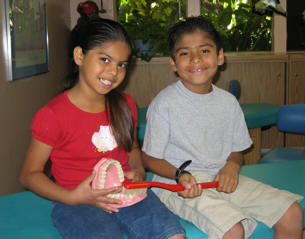 Care Of Your Child's Teeth
Begin daily brushing as soon as the child's first tooth erupts. A pea size amount of fluoride toothpaste can be used after the child is old enough not to swallow it. By age 4 or 5, children should be able to brush their own teeth twice a day with supervision until about age seven to make sure they are doing a thorough job. However, each child is different. Your dentist can help you determine whether the child has the skill level to brush properly.
Proper brushing removes plaque from the inner, outer and chewing surfaces. When teaching children to brush, place toothbrush at a 45 degree angle; start along gum line with a soft bristle brush in a gentle circular motion. Brush the outer surfaces of each tooth, upper and lower. Repeat the same method on the inside surfaces and chewing surfaces of all the teeth. Finish by brushing the tongue to help freshen breath and remove bacteria.
Flossing removes plaque between the teeth, where a toothbrush can't reach. Flossing should begin when any two teeth touch. You should floss the child's teeth until he or she can do it alone. Use about 18 inches of floss, winding most of it around the middle fingers of both hands. Hold the floss lightly between the thumbs and forefingers. Use a gentle, back-and-forth motion to guide the floss between the teeth. Curve the floss into a C-shape and slide it into the space between the gum and tooth until you feel resistance. Gently scrape the floss against the side of the tooth. Repeat this procedure on each tooth. Don't forget the backs of the last four teeth.
Good Diet = Healthy Teeth
Healthy eating habits lead to healthy teeth. Like the rest of the body, the teeth, bones and the soft tissues of the mouth need a well-balanced diet. Children should eat a variety of foods from the five major food groups. Most snacks that children eat can lead to cavity formation. The more frequently a child snacks, the greater the chance for tooth decay. How long food remains in the mouth also plays a role. For example, hard candy and breath mints stay in the mouth a long time, which cause longer acid attacks on tooth enamel. If your child must snack, choose nutritious foods such as vegetables, low-fat yogurt, and low-fat cheese, which are healthier and better for children's teeth.
How Do I Prevent Cavities?
Good oral hygiene removes bacteria and the left over food particles that combine to create cavities. For infants, use a wet gauze or clean washcloth to wipe the plaque from teeth and gums. Avoid putting your child to bed with a bottle filled with anything other than water.
For older children, brush their teeth at least twice a day. Also, watch the number of snacks containing sugar that you give your children.
The American Academy of Pediatric Dentistry recommends visits every six months to the pediatric dentist, beginning at your child's first birthday. Routine visits will start your child on a lifetime of good dental health.
Your pediatric dentist may also recommend protective sealants or home fluoride treatments for your child. Sealants can be applied to your child's molars to prevent decay on hard to clean surfaces.
Seal Out Decay
A sealant is a protective coating that is applied to the chewing surfaces (grooves) of the back teeth (premolars and molars), where four out of five cavities in children are found. This sealant acts as a barrier to food, plaque and acid, thus protecting the decay-prone areas of the teeth.
Before

Before Sealant Applied

After

After Sealant Applied
Fluoride
Fluoride is an element, which has been shown to be beneficial to teeth. However, too little or too much fluoride can be detrimental to the teeth. Little or no fluoride will not strengthen the teeth to help them resist cavities. Excessive fluoride ingestion by preschool-aged children can lead to dental fluorosis, which is a chalky white to even brown discoloration of the permanent teeth. Many children often get more fluoride than their parents realize. Being aware of a child's potential sources of fluoride can help parents prevent the possibility of dental fluorosis.
Some of these sources are:
Too much fluoridated toothpaste at an early age.
The inappropriate use of fluoride supplements.
Hidden sources of fluoride in the child's diet.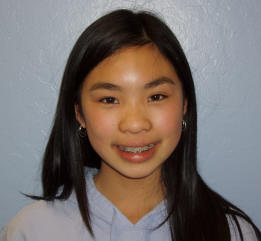 Two and three year olds may not be able to expectorate (spit out) fluoride-containing toothpaste when brushing. As a result, these youngsters may ingest an excessive amount of fluoride during tooth brushing. Toothpaste ingestion during this critical period of permanent tooth development is the greatest risk factor in the development of fluorosis.
Excessive and inappropriate intake of fluoride supplements may also contribute to fluorosis. Fluoride drops and tablets, as well as fluoride fortified vitamins should not be given to infants younger than six months of age. After that time, fluoride supplements should only be given to children after all of the sources of ingested fluoride have been accounted for and upon the recommendation of your pediatrician or pediatric dentist.
Certain foods contain high levels of fluoride, especially powdered concentrate infant formula, soy-based infant formula, infant dry cereals, creamed spinach, and infant chicken products. Please read the label or contact the manufacturer. Some beverages also contain high levels of fluoride, especially decaffeinated teas, white grape juices, and juice drinks manufactured in fluoridated cities.
Parents can take the following steps to decrease the risk of fluorosis in their children's teeth:
Use baby tooth cleanser on the toothbrush of the very young child.
Place only a pea sized drop of children's toothpaste on the brush when brushing.
Account for all of the sources of ingested fluoride before requesting fluoride supplements from your child's physician or pediatric dentist.
Avoid giving any fluoride-containing supplements to infants until they are at least 6 months old.
Obtain fluoride level test results for your drinking water before giving fluoride supplements to your child (check with local water utilities).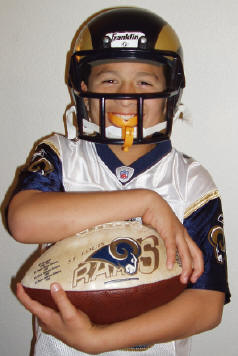 Mouth Guards
When a child begins to participate in recreational activities and organized sports, injuries can occur. A properly fitted mouth guard, or mouth protector, is an important piece of athletic gear that can help protect your child's smile, and should be used during any activity that could result in a blow to the face or mouth.
Mouth guards help prevent broken teeth, and injuries to the lips, tongue, face or jaw. A properly fitted mouth guard will stay in place while your child is wearing it, making it easy for them to talk and breathe.
Ask your pediatric dentist about custom and store-bought mouth protectors.
Xylitol - Reducing Cavities
The American Academy of Pediatric Dentistry (AAPD) recognizes the benefits of xylitol on the oral health of infants, children, adolescents, and persons with special health care needs.
The use of XYLITOL GUM by mothers (2-3 times per day) starting 3 months after delivery and until the child was 2 years old, has proven to reduce cavities up to 70% by the time the child was 5 years old.
Studies using xylitol as either a sugar substitute or a small dietary addition have demonstrated a dramatic reduction in new tooth decay, along with some reversal of existing dental caries. Xylitol provides additional protection that enhances all existing prevention methods. This xylitol effect is long-lasting and possibly permanent. Low decay rates persist even years after the trials have been completed.
Xylitol is widely distributed throughout nature in small amounts. Some of the best sources are fruits, berries, mushrooms, lettuce, hardwoods, and corn cobs. One cup of raspberries contains less than one gram of xylitol.
Studies suggest xylitol intake that consistently produces positive results ranged from 4-20 grams per day, divided into 3-7 consumption periods. Higher results did not result in greater reduction and may lead to diminishing results. Similarly, consumption frequency of less than 3 times per day showed no effect.
To find gum or other products containing xylitol, try visiting your local health food store or search the Internet to find products containing 100% xylitol.
Beware of Sports Drinks
Due to the high sugar content and acids in sports drinks, they have erosive potential and the ability to dissolve even fluoride-rich enamel, which can lead to cavities.
To minimize dental problems, children should avoid sports drinks and hydrate with water before, during and after sports. Be sure to talk to your pediatric dentist before using sports drinks.
If sports drinks are consumed:
reduce the frequency and contact time
swallow immediately and do not swish them around the mouth
neutralize the effect of sports drinks by alternating sips of water with the drink
rinse mouthguards only in water
seek out dentally friendly sports drinks
Restorative Dentistry (Fillings)
We provide a full range of restorative aesthetic dentistry including white (composite) fillings in front and back teeth, silver fillings, stainless steel crowns, pulpotomies (nerve treatments) and white crowns on front teeth.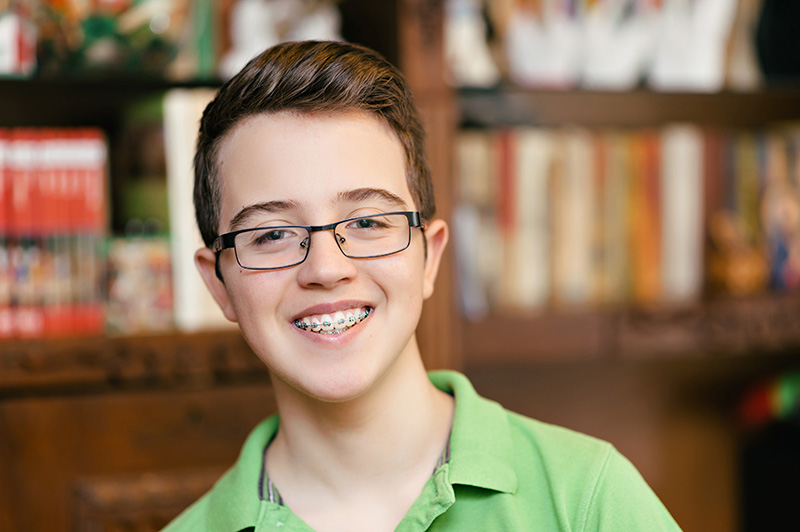 Orthodontics/Braces
Early Treatment
It's best for the orthodontist to see children by age 7 to advise if orthodontic treatment is required and it is the best time for that patient to be treated. The first permanent molars and incisors have usually come in by that time and crossbites, crowding, and other problems can be evaluated. When treatment is begun early, the orthodontist can guide the growth of the jaw and guide incoming permanent teeth. Early treatment can also regulate the width of the upper and lower dental arches, gain space for permanent teeth, avoid the need for permanent tooth extractions, reduce likelihood of impacted permanent teeth, correct thumb-sucking, and eliminate abnormal swallowing or speech problems. In other words, early treatment can simplify later treatment.
Invisalign
What is it?
Invisalign uses a series of invisible, removable, and comfortable aligners that no one can tell you're wearing. So, you can smile more during treatment as well as after. Invisalign is made with 3-D computer imaging technology and has been proven effective. More than 70% of orthodontists in the US and Canada are certified to treat with Invisalign.
Why would I want it?
Not only are the aligners invisible, they are removable, so you can eat and drink what you want while in treatment. Plus, brushing and flossing are no problem. They are also comfortable, with no metal to cause mouth abrasions during treatment. And no metal and wires usually means you spend less time in your doctor's office getting adjustments. Invisalign also allows you to view your own virtual treatment plan when you start so you can see how your straight teeth will look when your treatment is complete.
How does it work?
You wear each set of aligners for about 2 weeks, removing them only to eat, drink, brush, and floss. As you replace each aligner with the next in the series, your teeth will move — little by little, week by week — until they have straightened to the final position Dr. Wong has prescribed. You'll visit Dr. Wong about once every 8 weeks to ensure that your treatment is progressing as planned.
Learn more about Invisalign on their web site at www.invisalign.com.
Retainers
Wear your retainers full time, until the doctor instructs otherwise.
Take your retainers out when eating… and always put retainers in their case! (Most appliances are lost in school lunch rooms or restaurants.)
Clean retainers thoroughly once a day with a toothbrush and toothpaste. Use warm but not hot water. Brushing retainers removes the plaque, and eliminates odors. Efferdent® or other orthodontic appliance cleaners can be used, but do not take the place of brushing.
When retainers are not in your mouth they should ALWAYS be in a retainer case. Pets love to chew on them!
Initially, you may find it difficult to speak. Practice speaking, reading, or singing out loud to get used to them faster.
Retainers are breakable, so treat them with care. If retainers are lost or broken call us immediately.
If you have any questions or concerns about your retainers, or your retainers need adjusting, call us. Do not try to adjust them yourself.
Always bring your retainers to your appointments.
Retainer replacement is expensive… with proper care they will last for years!
Remove retainers when swimming.
Keep retainers away from hot water, hot car dashboards, pockets, the washing machine, and napkins.
Adult Treatment
Orthodontic treatment can be successful at any age and adults especially appreciate the benefits of a beautiful smile. One of every five patients in orthodontic treatment is over 21. Adults may have more complex needs due to previous dental work, tooth loss, periodontal (gum or supporting bone) problems, and lack of growth. Even though our office is a pediatric dental office, Dr. Wong can see adults interested in orthodontic treatment.
Before & After Photos